As Daresbury Laboratory celebrates 60 years at the cutting edge of science and innovation, it looks towards a future of milestone breakthroughs, inspiration and job creation, benefitting our economy and society.
Since 1962, Daresbury Laboratory has pushed the boundaries of modern science. Today, it is recognised worldwide for its excellence across a range of scientific fields, from nuclear physics to supercomputing.
Part of the Science and Technology Facilities Council (STFC) and located at Sci-Tech Daresbury in the Liverpool City Region, it enables research that benefits society, from cancer therapies, to cleaner energy.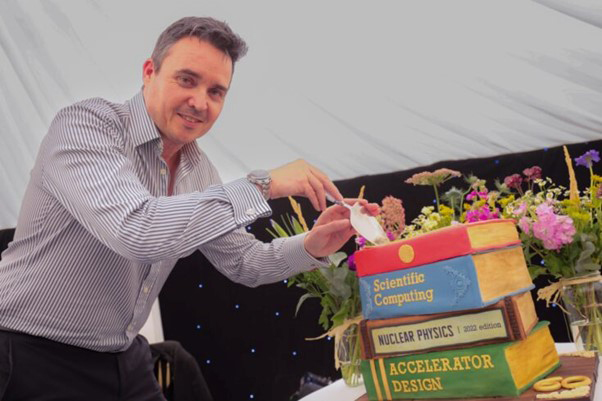 Pioneering scientific invention
A focal part of Daresbury's history, and which has played a significant role in what it is today, is undoubtedly the Synchrotron Radiation Source (SRS). One of the most pioneering scientific inventions of its time, it played a key role towards a share of two Nobel Prizes in Chemistry.
Generating light billions of times brighter than the sun, this particle accelerator revealed the structure of atoms and molecules inside materials. It enabled research into diseases such as HIV and motor neurone disease.
Research into the structure of the foot and mouth virus led to the development of a vaccine and was the first animal virus structure to be determined in Europe.
Far-reaching legacy
SRS closed in 2008. Since its closure, the impact of the SRS has led to the development of many similar facilities around the world with technologies and skills originating from Daresbury still in use.
Today, Daresbury's skilled scientists, engineers and technicians continue to play a key role in designing and building the newest generations of particle accelerators across the world.
Accelerator science
Daresbury Laboratory is home to the Accelerator Science and Technology Centre (ASTeC) and the Cockcroft Institute – which houses teams of scientists from STFC and the Universities of Manchester, Liverpool, Lancaster and Strathclyde carrying out research in accelerator science with applications across a range of disciplines. One of the 21st century's most exciting frontiers of science, accelerator science has secured a key niche in fields such as the fight against cancer, the search for cleaner, greener energy options and our understanding of the universe.
Inspiring a new generation of scientists
As a major employer in the region for 60 years, Daresbury Laboratory places great importance on providing opportunities and training for our future generations.
Work experience opportunities and a successful apprenticeship programme are a key part of securing the skills needed to support the ongoing job creation and growth of the campus. Almost 60 apprentices are on site working across a whole range of roles.
"The range of skills and talents needed for the UK to thrive as an innovation nation is huge and under-recognised. People are our opportunity, and investing in talented young people will unleash the region's full potential. As a proud partner of Sci-Tech Daresbury, we are committed more than ever to putting apprenticeships and training at the heart of what we do. With almost 60 apprentices working across a range of roles, our apprenticeship scheme continues to grow.

Celebrating our 60th anniversary is an immensely proud moment for all of us here at Daresbury Laboratory. I would like to thank all who have contributed to its growth, many of whom have dedicated their entire careers to Daresbury. I look forward with great anticipation to our next 60 years, celebrating the continued successes of the facility, made possible thanks to the dedicated staff both now and in the future."

Paul Vernon, Head of STFC's Daresbury Laboratory
This article is based on an original article published on the UK Research and Innovation website which can be found here:
https://www.ukri.org/news/daresbury-laboratory-celebrates-60-years-of-inspirational-science/