Thanks to the efforts of Cockcroft Institute and Lancaster University researcher Elisabetta Boella, WHPC hosted attendee events and a half-day workshop focused on creating a diverse and inclusive community with High Performance Computing (HPC).
After two years of digital events, WHPC came together in-person to Hamburg, Germany to bring together delegates from the HPC world to discuss how to make the sector more inclusive. In particular, the half-day event focused on how to promote the visibility of women and underrepresented groups and build up skills for career development. "I was drawn to be a part of this workshop as a volunteer because I wanted to take my experience in equitable advocacy in STEM to the next level," said Elisabetta Boella, who chaired the invited talks for this workshop, "By engaging as part of the committee I was deeply embedded into the process of putting together a workshop which addressed the needs of women early in their careers, showcased the experiences of HPC leaders, and highlighted drive for allyship that the HPC community has."
Through engaging presentations and two very lively discussion panels, the WHPC workshop explored how little changes can help create more welcoming environments and how to build strong allyships that could help underrepresented groups to navigate a career in STEM. "Our speakers gave us deep insight into everything from giving and receiving feedback, developing leadership skills, and how to celebrate and learn from failures and mistakes," said Elisabetta, "It was also wonderful that our workshop provides a platform for women early in their careers. Seeing them present and be able to get support and feedback from the attendees was really great to witness."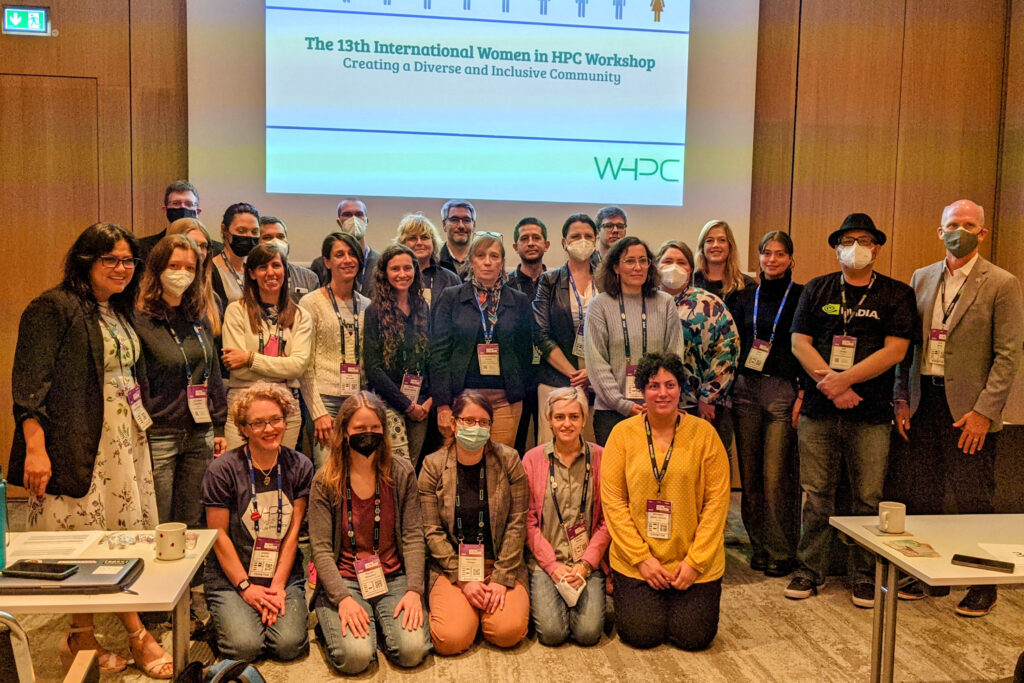 The WHPC workshop took a team of six to plan and included the efforts of Elisabetta, together with Mozhgan Kabiri Chimeh (Nvidia), Weronika Filinger (EPCC), Martina Prugger (Universität Innsbruck), Marion Weinzierl (Durham University and N8 CIR), and Cristin Merritt (Alces Flight). On her final thoughts on the workshop Elisabetta said, "As a Physicist I study motion and behaviour at a natural science level. Here I was able to look at it from a human level – to see how positive energy from interactions in our community can foster a more inclusive environment. I cannot wait to take what I've learned from this workshop and apply it to my advocacy role in STEM!"
The workshop "Women in HPC: creating a diverse and inclusive community", was held at ISC High Performance 2022 (Hamburg, Germany) on June 2nd.
More information on the workshop and other Women in High Performance Computing (WHPC) initiatives to foster diversity can be found at this link: https://womeninhpc.org/women-in-hpc-events/whpc-heads-to-isc22