Challenge
In December 2018 The Christie became the first NHS hospital to treat cancer patients with high energy proton beam therapy (PBT). PBT has significant advantages over traditional radiotherapy as protons can be made to 'stop' in the tumour. This helps to spare surrounding healthy tissue and thus reduce the risk of longterm side effects. It may also be possible to give higher doses of radiotherapy for hard to treat tumours.
Right from the start, the patient indications were complex and included treatment of some very young paediatric patients. Since this time, the ramp up of the centre, in terms of both the number of patients and the complexity of the indications has proceeded ahead of schedule. By end 2021 over 700 patients, including a large number of paediatric patients, had been treated at The Christie.
Supporting the ongoing success of this clinical facility requires research to ensure that the clinical centre stays right at the forefront of the "state of the art".
Solution
Development of a research room in the clinical PBT centre and integrated with the clinical teams provided the means to carry out the experiments needed. The Christie Charity provided £5.6M to build and equip this research room. A scanning nozzle, capable of pencil beam scanning to emulate the beam delivery in the clinical gantries was provided by Varian.
After the scanning nozzle, there is space for bespoke, removable, end-stations, which allow a wide variety of experiments to be conducted. For example, the radiobiology hypoxia module (developed in collaboration with Don Whitley Scientific and funded by CRUK). It also contains an integrated robot arm (designed by Fanuc in collaboration with Thermo) allowing high throughput experiments to be carried out remotely. This is a world first for research in proton therapy and can vary the oxygen tension between 0.1-20% allowing research which emulates the most radio resistant and difficult to treat tumours to be conducted.
Current work is designing a new world leading pre-clinical beamline incorporating an automated imaging platform and small-spot scanning nozzle.
Benefits
The research room capability linked to the Christie clinical facility has delivered huge benefits in terms of both driving forward PBT research and our role in research networks.
Use of the automated hypoxia end station has allowed us to perform high throughput experiments in 2D, 3D and tissue samples with protons and thus reduce the uncertainties in PBT biology experiments. We have successfully undertaken commissioning experiments in collaboration with Varian to allow us to deliver PBT Flash beams (>100 Gy/s) in to the research room. Through careful work, our FLASH dosimetry is comparable to the best in the world. We work with PBT centres across Europe to build a European network in proton therapy research. For example, the H2020 project INSPIRE, coordinated by University of Manchester, started in March 2018 and provides a focus for proton research across Europe.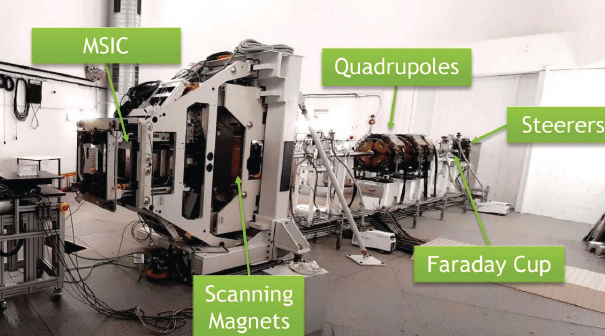 "The research room allows us to work closely with the clinical teams at The Christie on the key scientific and technological challenges that we identify and work on together and to then translate this research rapidly back towards the clinic so it can be used for patient benefit."

Professor of Proton Therapy Physics at University of Manchester and The Christie Hospital