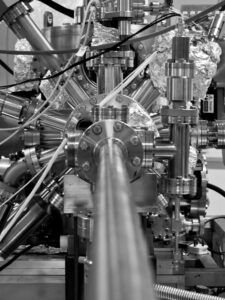 Accelerators are a major tool for modern manufacturing, and a key technology for tackling the global challenges in healthcare, security, environment and energy. Each year, some €400bn of end products are produced, sterilized or examined using an industrial accelerator. The Cockcroft Institute works closely with industry to apply its knowledge, skills and facilities to industrial challenges, to ensure that the social and economic impacts from cutting-edge accelerator technologies are fully realised.
Future advances in accelerator technology will benefit many aspects of our everyday lives – through areas such as cancer treatment, security scanning, waste water treatment, industrial processing and advanced materials.
Our skills in the underpinning technologies of accelerator science have broad applicability, and we partner with a range of industries in these areas.
Key technical areas include:
End-to-end accelerator expertise – ideas, design, modelling, build, commissioning, and operation
Radio frequency (RF) systems – optimised design of state of the art RF systems
Beam diagnostics – development, construction and operation of cutting edge beam instrumentation
Cryogenics – plant infrastructure and system optimisation
Lasers and THz
Vacuum technology – specialising in Ultra-High and Extreme High Vacuum (UHV and EHV) systems
Vacuum metrology and calibration service
Novel coatings for challenges including corrosion resistance, hardness, wear, catalytic performance, optical, electrical and magnetic properties
Surface analysis – expertise in a range of techniques that provide crucial information on materials at the fundamental level
Magnet technology – superconducting and normally conducting, from design and modelling through to testing and operation
Beam modelling and simulation
We have a range of accelerator test facilities, including VELA (Versatile Electron Linear Accelerator), specifically designed to boost development of advanced accelerator systems.
More information about the business support activities of the STFC Accelerator Department ASTeC may be found at:
https://www.astec.stfc.ac.uk/Pages/Business-Support.aspx
Work with us
The Cockcroft Institute partners have formalised a way of working to enable industry partners to quickly develop collaborations with the partnership. In the first instance please contact business@cockcroft.ac.uk.